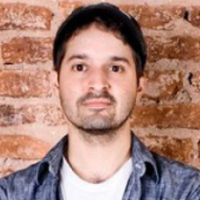 Andrés Fonrodona
Content creator 
He is a creator of fantasy and science fiction content, he's a passionate cinephile researcher for the pop culture.
He has 10 years of experience developing several roles in content creation, production and post production in commercial and artistic and cinematographic pieces. The clients are diverse, companies from Colombia, Argentina, and USA and some of his roles have been Film Editor, Colorist, and Script Supervisor.
He has a university degree in communication and audiovisual language for the University of Medellin, Colombia, film editor graduated from Fundación Universitaria de Cine (FUC) from Buenos Aires, Argentina and has done studies in professional photography from Motivarte School (ISEC Nueva Generación de Comunicadores) in Buenos Aires, Argentina.